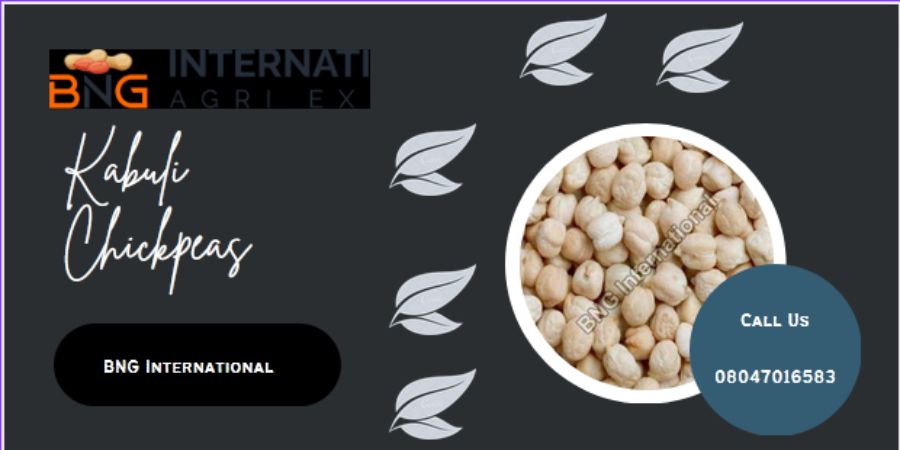 Kabuli chickpeas, also known as Cicer arietinum, are a popular kind of bean notable for their big, cream-coloured seeds. They are highly regarded for their nutty flavour and adaptability. Kabuli Chickpeas by Kabuli Chickpeas Exporters in India are used extensively in many different cuisines throughout the world.
Benefits of Nutrition: A Powerhouse of Nutrients
Kabuli chickpeas are a powerful source of nourishment and a great supplement to any diet. They are a great source of vital vitamins, minerals, and plant-based protein. They also include a lot of dietary fibre, which promotes digestive health and lowers blood sugar.
Used In Food, Ranging From Salads To Curries
Kabuli Chickpeas by Kabuli Chickpeas Exporters in India has a huge range of culinary applications. From salads and soups to curries and stews, they may be utilized in a variety of cuisines. Additionally, they may be roasted with seasoning for a wholesome and crispy snack. Kabuli chickpeas form an excellent foundation for a variety of cuisines due to their mild flavour and creamy texture.
Traditional and Global Cuisine: From Hummus to Chana Masala
Traditional Middle Eastern cuisines like hummus and falafel heavily utilize kabuli chickpeas. They are a vital component in well-known Indian meals like chana masala and chaat. Kabuli chickpeas may be adapted to fit a variety of global culinary traditions thanks to their versatility.
Chickpeas in Cultural Festivals: A Symbol of Abundance
Chickpeas, notably Kabuli chickpeas, have cultural and symbolic value in several civilizations. They are frequently utilized in ethnic foods made for festivals and other special occasions. Chickpeas are seen as a symbol of wealth and abundance in some areas, which heightens their significance in cultural rituals.
Ideal For Vegetarians And Vegans Is A Plant-Based Protein Source
Kabuli chickpeas are a great plant-based protein source for people who eat a vegetarian or vegan diet. Those who follow a plant-based diet, supply the essential amino acids needed for maintaining and repairing tissues. This makes them a crucial component of a balanced diet.
Supporting Heart Health and Weight Control as Health Benefits
Kabuli chickpeas may be beneficial for your health in several ways. Chickpeas' high fibre content lowers cholesterol levels and promotes heart health. The combination of high protein and fibre can also increase satiety, assisting in weight management.
Easy to Cook and Store: A Pantry Staple
Kabuli chickpeas are widely available and may be discovered in most supermarkets. They come in dry or canned forms, making them convenient for various culinary requirements. While canned chickpeas are ready to use, dried chickpeas need to be soaked before cooking.
Tips for Making Delectable Chickpea Dishes
To cook dried Kabuli chickpeas faster, soak them the night before. Simmer till tender in water. Simply drain and rinse chickpeas from a can before using. Kabuli chickpeas can be used in salads, curries, or as flour for savoury recipes after being ground.
Embrace the Versatility of Kabuli Chickpeas
Kabuli chickpeas are a wholesome and adaptable bean with a wide range of culinary applications. These cream-coloured beans can enhance your recipes whether you're a professional chef or a home cook. All thanks to their savoury flavour and beneficial nutrients.
Kabuli chickpeas have made their way into the hearts and palates of people all across the world. For a flavorful and nutritious culinary voyage, embrace the adaptability of Kabuli chickpeas. Start discovering the delicious world of chickpea-based cuisine.