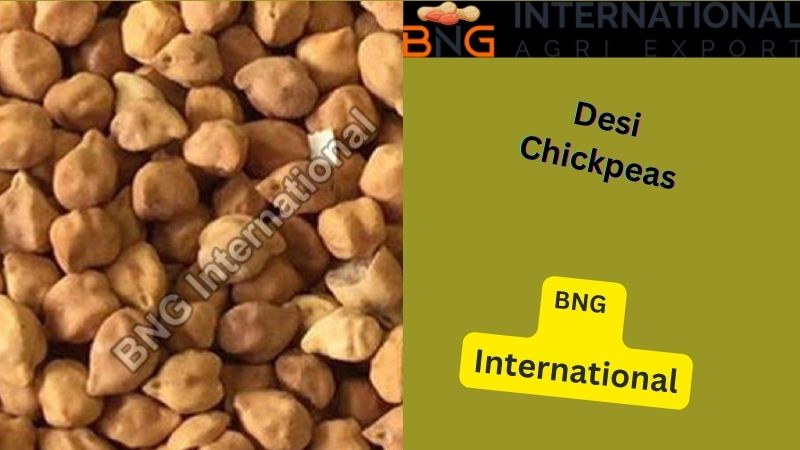 Desi chickpeas, sometimes referred to as Bengal gramme or kala chana in India, are a type of chickpea. It is commonly grown and eaten in that region. They stand out for their diminutive size, dark brown colour, and rough exterior skin. The texture and flavour of Desi chickpeas are dense and slightly gritty.
Desi Chickpeas' Origin
The region that includes modern-day India, Pakistan, and Bangladesh is where desi chickpeas originated, on the Indian subcontinent. It has been thousands of years since chickpeas were first cultivated and consumed.
Desi chickpeas suppliers In India buy desi chickpeas from farmers directly or through vetted middlemen. Around 7,000 years ago, the Fertile Crescent is where chickpeas were originally domesticated. From there, they migrated to many regions of the globe, including the Indian subcontinent.
Chickpeas from India are high in nutrition.
Besides being delicious, Desi chickpeas also have a number of health advantages. A summary of their dietary profile is given below:
Macronutrients:
Protein
With about 19 grammes of protein per 100 grammes, Desi chickpeas are a great plant-based protein source. In particular for vegetarians and vegans, this makes them an important protein choice.
Complex carbohydrates, such as dietary fibre and starch. They are provided by them and aid in a prolonged release of energy.
Fats
Desi chickpeas have a moderate quantity of heart-healthy fats in them, mostly polyunsaturated and monounsaturated fats.
Fibre In Food
The soluble and insoluble dietary fibre found in Desi chickpeas is abundant. Around 7 grammes of fibre can be found in a serving of 100 grammes.
Dietary fibre stimulates the development of good gut flora, facilitates regular bowel motions, and supports digestive health. Additionally, fibre helps in controlling hunger, promoting satiety, and controlling blood sugar levels.
Vitamins And Minerals
Several important vitamins, such as folate, vitamin B6, and vitamin C, are abundant in Desi chickpeas. Additionally, they include crucial elements like iron, magnesium, phosphorus, potassium, and zinc.
Benefits to Health
Regular consumption of desi chickpeas has been linked to a number of health advantages. These include better blood sugar management, weight control, and a decreased chance of developing chronic diseases.
Desi Chickpeas in Different Regions
Desi chickpeas are a common ingredient in many regional meals across the Indian subcontinent. Each region has its own distinctive preparations and dishes. The following are some noteworthy geographical variants of Indian chickpeas:
Cuisine from North India
Chole Bhature
This well-known Punjabi meal consists of hot chickpea curry (chole) with bread that has been deep-fried.
The Amritsari Chole
This meal is a speciality of Amritsar, Punjab. It has chickpeas cooked in a tangy and spicy stew.
Cuisine from South India:
Sundal
A boiling chickpea snack that is spiced with mustard seeds, curry leaves, and other ingredients from South India.
Curry Sauce
A delicious chickpea stew made with coconut and a mix of South Indian spices.
Ethnic food from India:
Ghugni
Chickpeas cooked in a spicy stew and eaten with puri or rice make up this classic West Bengal and Bihar meal.
Conclusion
Desi chickpeas can be a delicious way to add flavour, nutrition, and variety to your dishes. Desi chickpeas are a flexible and delectable addition to a variety of cuisines.